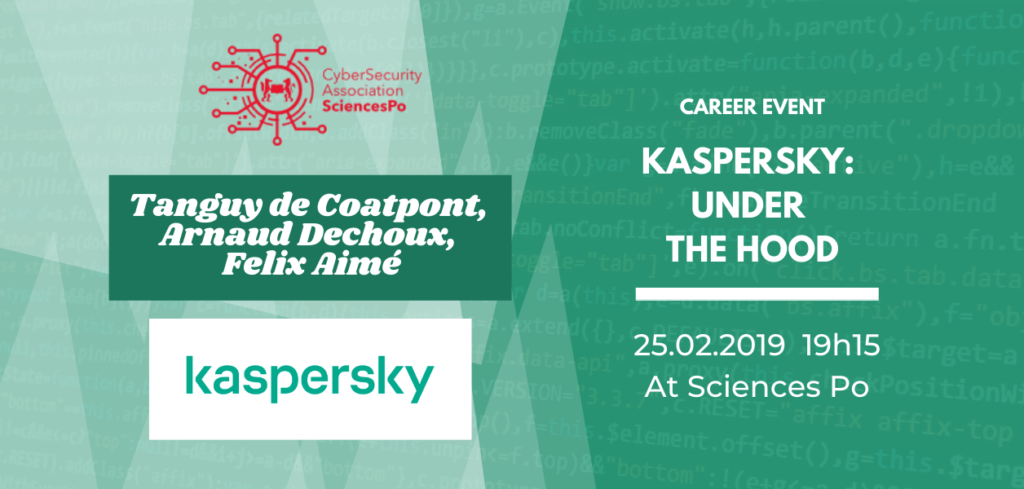 The SCA was delighted to invite our members to this exclusive event with one of the world's most intriguing cybersecurity firms: Kaspersky. Kaspersky Lab was founded in Russia in 1997 and has since uncovered several of the most influential government-sponsored espionage platforms. The company has also run into some controversy over alleged links with the Russian FSB (Federal Security Service). Their research hubs analyse over 350,000 malware samples per day, and with 400 million users, Kaspersky are the third largest vendor of consumer IT security software products worldwide.
For this exciting event, we were joined by:
Tanguy de Coatpont – General Manager France and deputy MD Europe at Kaspersky
Arnaud Dechoux – Public Affairs Manager Europe, Kaspersky
Felix Aimé – Cybersecurity researcher at Kaspersky and member of the GReAT (Global Research and Analysis Team)
The event was composed of two parts. First we enjoyed a general presentation about Kaspersky and partnerships, which was fully on the record. This was followed by a presentation on GReAT research and predictions on advanced persistent threats and international cyber trends, which was done under Chatham House rules.