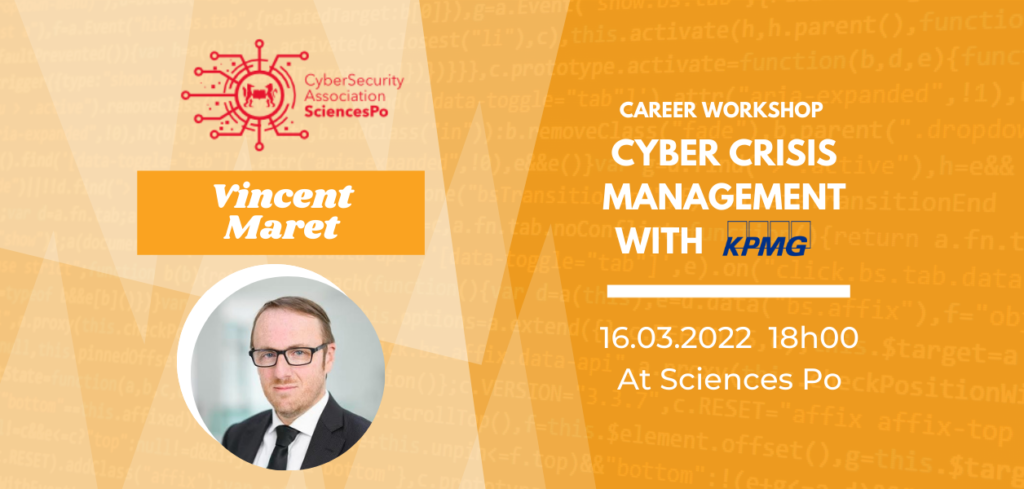 Have you ever wondered how a cyberattack is dealt with inside a big company? 
How to set up a crisis organisation? 
How to take decisions in a disturbed environment?
For this interactive workshop, the Sciences Po Cybersecurity Association decided to focus on the management of a cyber crisis through the eyes of a Big Four consulting firm: KPMG.
We are honoured to welcome Vincent Maret, partner and Head of Cybersecurity and Personal Data Protection at KPMG France. Vincent Maret has 20 years of experience in consulting and auditing in the fields of cybersecurity, personal data protection, technology and governance. Within KPMG, he carries out and supervises GDPR compliance missions, security architecture reviews, intrusion test campaigns, security policy definition and update, etc.
To better undersand crisis management, this workshop will take the real-life example of a just-hacked international retail firm. Participants will be given in advance the company persona and will have to carefully take decisions according to the scenario, with Vincent Maret's assistance. 

This is a professionalizing workshop inspired by a course given at HEC Paris. No prerequisites are expected but the exercise should be read in advance (15 min max.).
Registration here: https://forms.gle/s7JybD5h5FyZcDkp9