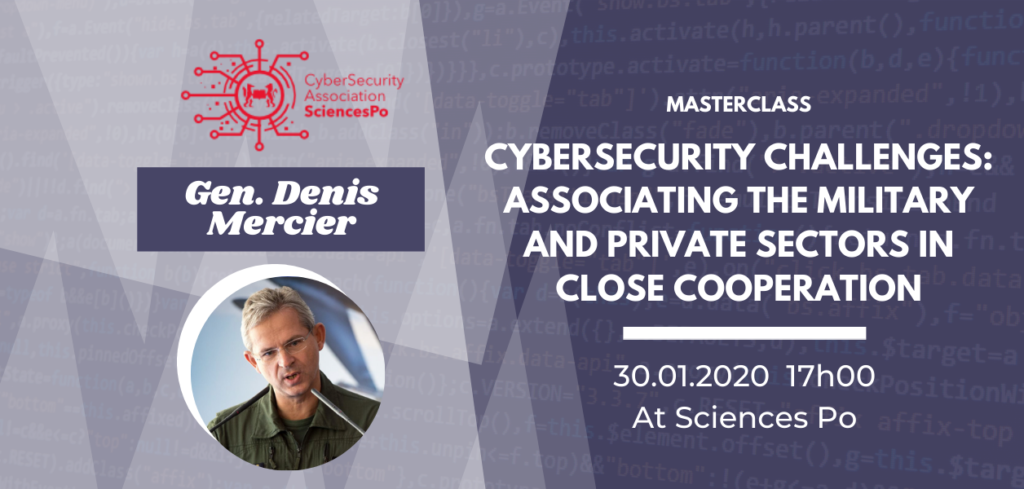 The SCA started off the new semester with this special guest! We had the honour of hearing General Denis Mercier, former Chief of Staff and Chairman to the board of the French Air Force as well as Supreme Allied Commander Trandormation (SACT) of NATO and now Deputy General Manager at FIVES, Board Director at Addup and Faurecia.
In his Masterclass, the General used his professional experiences in both the military and private sectors to demonstrate how cyber security is one of the main challenges we face today and why we need to share experiences and expertise between all sectors to enhance security. Some of his experiences are highlighted below:
During his time at NATO, General Mercier was responsible for promoting and overseeing the continuing transformation of Alliance forces and capabilities, so as to keep its capabilities relevant and ready to face present and future security challenges.
When the current SACT General Lanata took over the post in September 2018, he praised his tenure by saying: "Innovation is a fundamental part of NATO's mission. Disruptive technologies such as the use of Big Data, Artificial Intelligence and robotics are leading to a revolution in military affairs. General Mercier's focus on innovation and new technologies has helped to keep NATO at the forefront of this revolution."
Before his term as the Supreme Allied Commander, General Mercier excelled in the French military, being promoted from Commandant to General of numerous military air force bases. He has been awarded the rank of Grand Officer of the French Legion of Honour. He is also, among other distinctions, officer of the National Order of Merit.