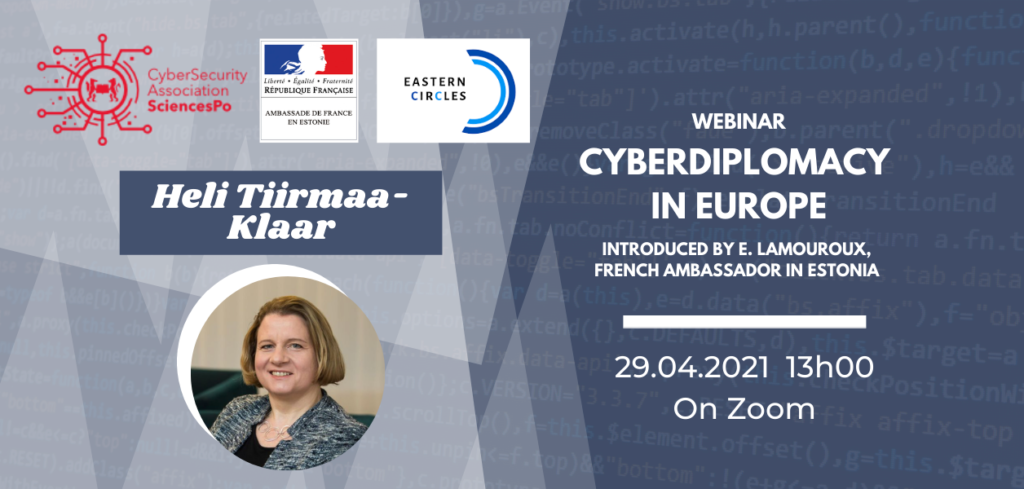 Estonia has a virtuous record in punching above its weight in digital development and creating a cyber-ecosystem. The field of cybersecurity makes no exception, as Estonia has since long ago proved to be a valuable global pioneer in the best practices for a safe cyberspace. With the creation of the Department of Cyber Diplomacy within the Ministry of Foreign Affairs the country actively impulse international cooperation on the matter. 
Together with Eastern Circles, the Sciences Po Cybersecurity Association was proud to receive the head of this department, Ambassador-at-Large for Cyber Diplomacy Heli Tiirmaa-Klaar. She was introduced by the French ambassador in Estonia, Mr Eric Lamouroux.
Up to Fall 2018, Heli Tiirmaa-Klaar was Head of Cyber Policy Coordination at the European External Action Service where she steered and coordinated EU external relations on cyber issues since 2012. She has been working on cyber security since 2007 when she led the development of the Estonian Cyber Security Strategy. In 2008-2010 she coordinated the implementation of the Estonian strategy, managed the National Cyber Security Council and led the development of Estonia's National Cyber System as well as public-private partnerships for cyber security. In 2011, she was assigned to the NATO International Staff to develop the new NATO Cyber Defence Policy. In her earlier career, she has held various managerial positions at the Estonian Ministry of Defence and the Tallinn University. She was a Fulbright Scholar at the George Washington University and has published in several academic journals throughout her career. 
This was the perfect occasion to discuss an Ambassador's role, the Estonian vision of cyber-diplomacy as a result of the cyber cultural approach of Estonian society, and more generally to provide perspective to question the capacities and challenges at the European level.