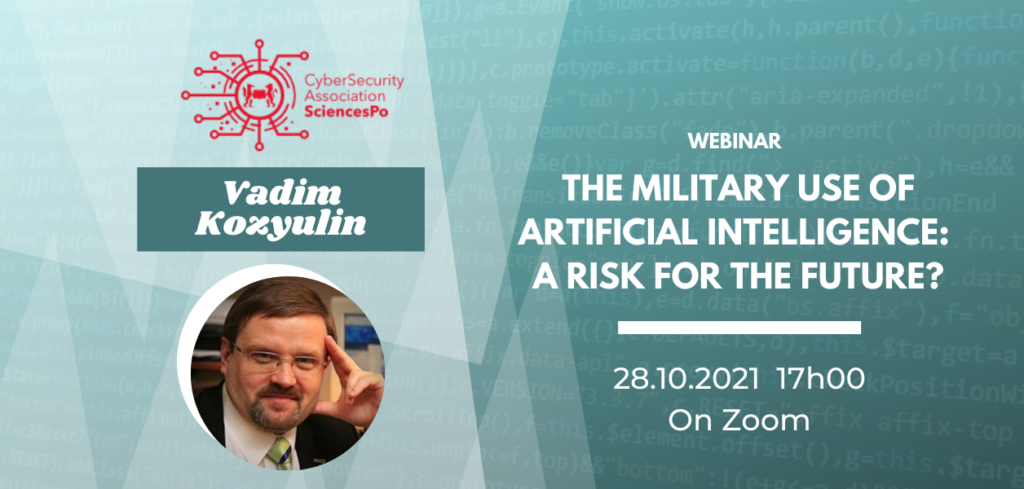 What exactly are lethal autonomous weapons (LAWS)?
Can LAWS comply to human rights? 
What are the future risks of lethal autonomous weapons?
The Sciences Po Cybersecurity Association was excited to host a Webinar with the Head of the Center for Global Studies & International Relations of the Russian Ministry of Foreign Affairs, Mr Vadim Kozyulin as we explored the answer to these questions together.

Mr Kozyulin delivered a unique insight into the military use of AI. He addressed the key risks linked to the rise of LAWS. Mr Vadim Kozyulin is a Research Fellow at the PIR Center of Moscow and Head of the Center for Global Studies & International Organizations of the Institute for Contemporary International Studies of the Diplomatic Academy of the Ministry of Foreign Affairs of the Russian Federation. In 1990, he graduated from MGIMO University. He worked in the Foreign Ministry of the USSR/Russia, in the Moscow News newspaper. In 2000-2002, he studied Management in the Military-Technical Cooperation course at the Russian Foreign Trade Academy. Today, he is a Member of the Expert Council on the International Humanitarian Law of the State Duma of the Russian Federation, participant of the International Panel on the Regulation of Autonomous Weapons Systems (IPRAW) participant of the Russian-American Dartmouth Dialogue. He has more than 300 publications on international security issues. His research interests include military artificial intelligence, new weapons systems, arms control, Russia's military-technical cooperation with foreign states, strategic stability, Russia-US and Russia-NATO relations, Central Asia and Afghanistan, and illicit arms trade.