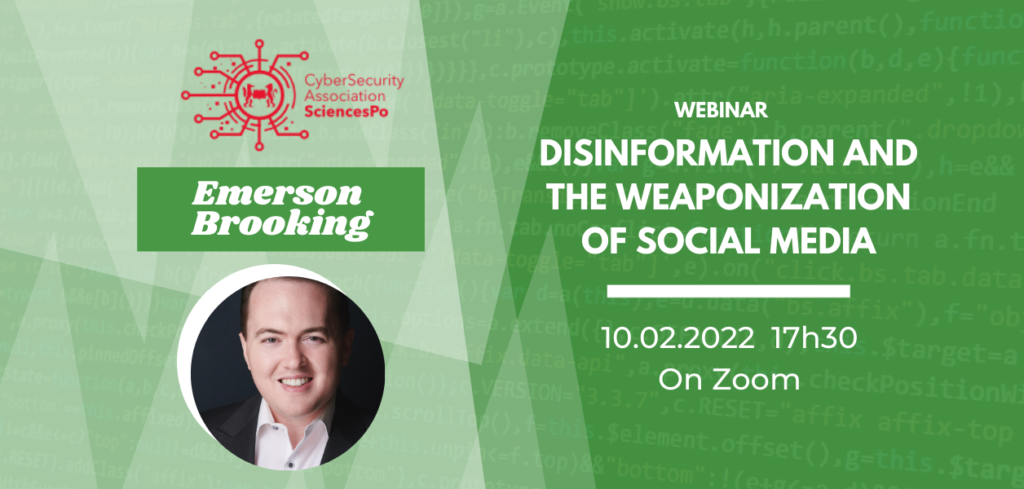 How did social media become a real tool of warfare?
How does a coordinated disinformation campaign disrupts decision making and erodes social cohesion?
What are the latest trends within the disinformation threat landscape?
Social media has emerged as a powerful tool for communication, connection, community and, unfortunately, conflict. It's created new, highly accessible channels for spreading disinformation, sowing divisiveness and contributing to real-world harm in the form of violence, persecution and exploitation.
For this first webinar of 2022, the Sciences Po Cybersecurity Association is more than happy to welcome Emerson T. Brooking, a resident senior fellow at the Digital Forensic Research Lab of the Atlantic Council. Coauthor of LikeWar: The Weaponization of Social Media, he is an expert in the fields of disinformation, terrorist communication, and internet policy.
Brooking has spoken regularly on the topic of information warfare and social media manipulation, advising multiple U.S. technology companies and national security entities. He holds a BA in Political Science and Classical Studies from the University of Pennsylvania. He was named to the Forbes "30 Under 30" Class of 2019 and is a Term Member of the Council on Foreign Relations in the US.
Registration here: https://forms.gle/ifxkRxWbXBKYny8eA