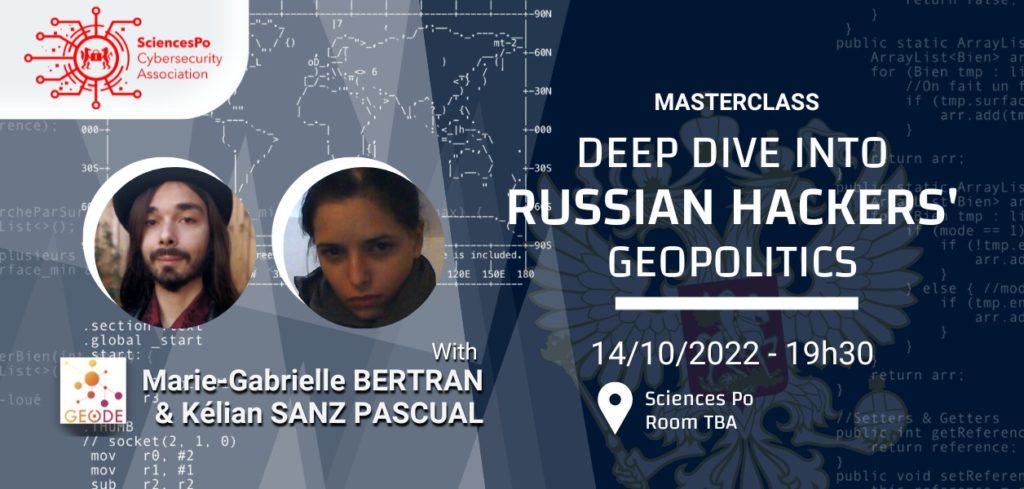 // RUSSIAN HACKER'S GEOPOLITICS MASTERCLASS – Sciences Po Cybersecurity Association //
On the 14th of October, join the Sciences Po Cybersecurity Association for a new masterclass focusing how the preponderance of hackers in Russia. While debunking common preconceived ideas, we will deepen the historical, sociological, economic and political factors related to the structuration of Russian cybercrime.
Why are there so many hackers from Russia?
How does Russian cybercriminals structure themselves?
To what extent history, sociology, economy and politics can help us understand the roots of the Russian cybercrime ecosystem?
How does the Russian state and its intelligence services interact with Russian cybercrime groups?
How international relations and geopolitics impact dynamics within Russian cybercrime groups?
For this interactive masterclass, we are happy to welcome Marie-Gabrielle BERTRAN & Kélian SANZ PASCUAL:
– Marie-Gabrielle BERTRAN holds a Master's degree in History of Philosophy (Université Paris IV – Sorbonne) and a Master's degree in Geopolitics (Université Paris 8 – Saint-Denis). She is currently a doctoral student at the IFG-Lab (University of Paris VIII) under the supervision of Frédérick Douzet and Kevin Limonier. She is also associated with the IRSEM (Strategic Research Institute of the Military School) and researcher at the GEODE center (Geopolitics of the Datasphere) in France. Her research focuses on the policies around digital sovereignty in Russia, and its consequences on the relations between the public and private digital sectors, as well as on the practices of Russian developers.
– Kélian SANZ PASCUAL is a graduate of the Geopolitics Master's degree in Cyberstrategy and Digital space from the French Institute of Geopolitics. He notably worked on Russian digital sovereignty, cybernetic and informational strategy of Russia. As geopolitical analyst at Cassini Conseil since 2020, he specializes in issues relating to the use of digital and information technologies by Russia on its territory and against its strategic adversaries, particularly in the context of the war in Ukraine, as well as Russian influencer entrepreneurs and their activities in Russia and around the world.
14.10.2022 19h30 Sciences Po (room TBA)
The event is open to everyone.
REGISTER HERE: https://forms.gle/1u24PXCVQypvXQD36