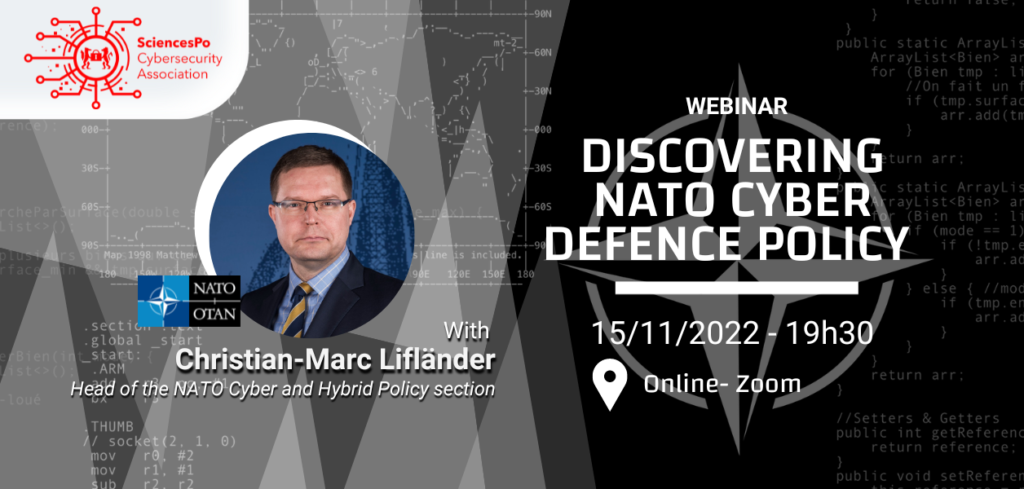 Want to learn how cyber defence policy is developed and implemented across NATO? Then you can't miss the next Sciences Po Cybersecurity Association online event, which will take place on November 15th, at 7.30pm!  
To guide us through NATO cyberdefence policy, we are honoured to welcome Christian-Marc Lifländer, Head of the NATO Cyber and Hybrid Policy section, responsible for leading the development and implementation of cyber and hybrid policy across the alliance. 
On the agenda:
● How is cyberdefence policy developed and implemented across NATO?
● What are the most pressing issues facing NATO in terms of cyber?
● How does NATO defend against cyberattacks? Does NATO Article 5 apply to cyberattacks?
● How does NATO structure itself when it comes to cyber affairs? What are the roles and tasks of the NATO Computer Incident Response Capability (NCIRC), NATO Cyberspace Operations Centre and NATO Cooperative Cyber Defence Centre of Excellence?
Previously, Mr Lifländer served as Policy Advisor, Deputy Head of Section and Head of Section in the NATO's International Staff. Before joining NATO, Mr Lifländer held executive and senior advisory level positions within the Estonian Ministry of Defence. He holds a degree in Engineering from the United States Military Academy, West Point. as well as a MA. in Security Studies from Georgetown University's Center for Security Studies (CSS) in the Edmund A. Walsh School of Foreign Service.
N.B.: This event is open to Sciences Po students only. It will follow the Chatham House Rules; therefore, it is strictly forbidden to register the event, quote what will be discussed or attribute to the guest statements or notions that will be presented.
When will the event take place? November 15, 2022 at 19.30.
Where? The event will be on Zoom.
Registration here: https://forms.gle/wqhZKhLxZ5tNDRU29