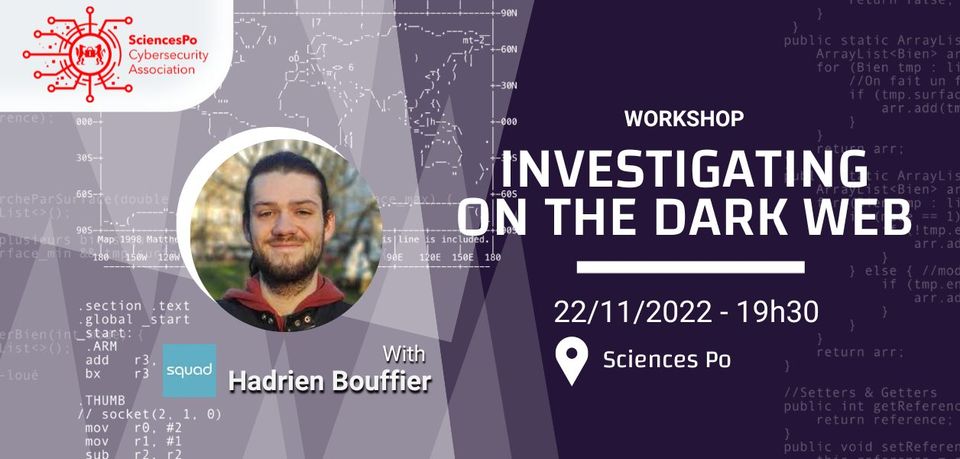 Often called a "safe haven" for cybercriminals, the dark web has become commonly used in media and our day-to-day language but people with a non-technical background often misunderstand what it is and what is at stake with it. The Sciences Po Cybersecurity Association deems it is important to offer a workshop to allow Sciences Po students to better understand what the dark web is, by giving them the opportunity to ask their questions to a technical analyst.
To further guide us we will be receiving Hadrien Bouffier, Cyber Threat Intelligence analyst for SQUAD, for a workshop on Tuesday the 22th November at 7pm CEST. Hadrien will address these following issues to help us better understand the dark web and its uses for cybercriminals and security analysts:
– What is the darkweb?
– How can we access it?
– How it works?
– For what purpose can it be used by cybercriminals and for OSINT investigations?
This workshop will be the opportunity to ask your questions and is designed to be interactive. All questions are welcomed !
Hadrien Bouffier is a Cyber Threat Intelligence analyst working for the consulting company SQUAD. After graduating from the ESGI in 2021 as computer engineer, Hadrien specialized himself in Cyber Threat Intelligence and in the study of malicious activity in cyberspace. His experience in the Hacklab ESGI helped him to familiarize with monitoring tools. He developed its own network probe to gather information relevant for investigating cyber threats. He is currently working with the Thales' Cyber Threat Intelligence team and provides his technical expertise to analyze cyber threats and create tools to facilitate investigations for open-source information.
Join us on 22.11.2022 at 19:30
Sciences Po