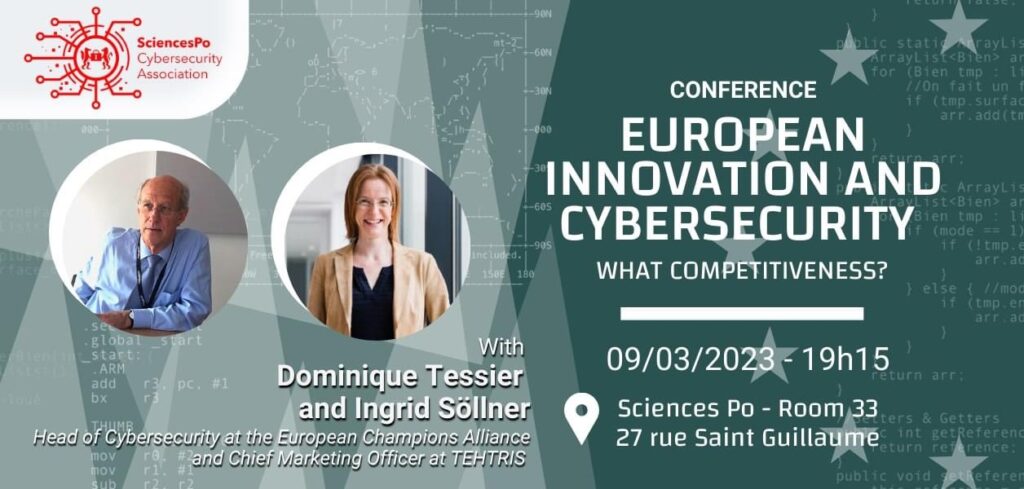 Inscriptions : https://forms.gle/ytpS2brX7uYWrghVA
🇪🇺 What position for European innovation in cybersecurity on the international scene? 🇪🇺 🙋🏽Who are the stakeholders? Is Europe a pioneer in the field or on the contrary lagging behind the offers developed by other foreign powers? 🥇 How can we support the European cyber industry to reach sovereignty objectives ? 🇪🇺
We are pleased to welcome on Thursday 9th of March, Mr. Dominique Tessier, Head of Cybersecurity at European Champions Alliance and Ms. Ingrid Söllner, Marketing Director at Tehtris.
Dominique Tessier is co-animator of the European Champions Alliance and leads its Cybersecurity group. He has first held IT responsibilities in the Public sector before being CEO of different ICT private companies, most having strong European connections. More recently, Dominique has provided consultancy services to help start up's develop, in particular in Cybersecurity, and to help Corps to undertake their digital transformation.
Ingrid Söllner joined TEHTRIS in 2020 as Chief Marketing Officer (CMO). Her mission is to promote the effectiveness and reliability of TEHTRIS solutions in the fight against cyber-espionage and cyber-sabotage. Ingrid is also a member of CefCys (non-profit promoting women in cybersecurity) and was selected by Citizen Entrepreneurs to represent France at the G20 Young Entrepreneurs Alliance Summit in Italy in October 2021.
The European Champion Alliance (ECA) is a non for profit initiative led by a group of European tech leaders. Its mission is to enable technological leadership of European scale-ups by connecting them with different SMEs, corporates and institutions and enhancing collaboration. They also share best practices and provide mentoring on several subjects. Tehtris is part of the ECA and has been a cybersecurity expert company since 2010.
On the agenda:
✅ What is the role of the European Champion Alliance and how does it showcase European innovation in cybersecurity? 🇪🇺
✅ What is the European offer in terms of cybersecurity in 2023? 💻
✅ What are the strengths and weaknesses of this offer compared to that of the Americans or Israelis? 🇺🇸🇮🇱
Join us on 09.03.2023 at 19h15 at:
27, Rue Saint Guillaume
Salle 33