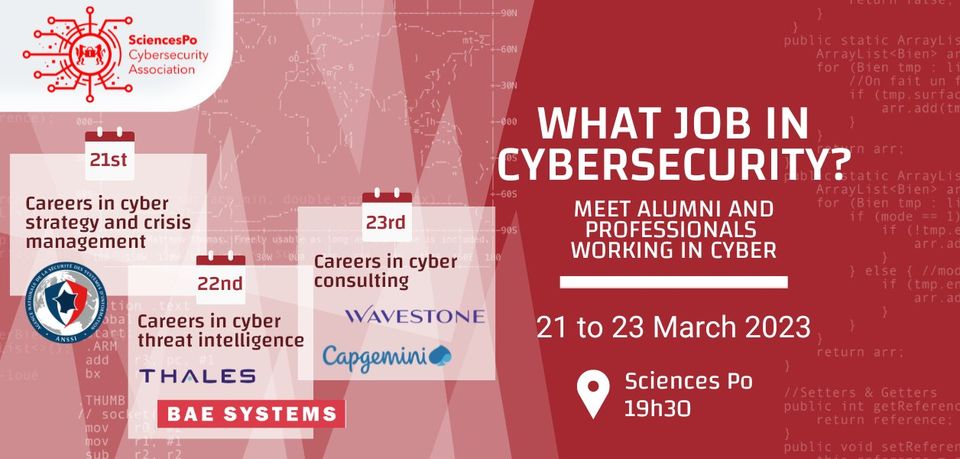 The Sciences Po Cybersecurity Association is happy to invite you to its career week dedicated to cybersecurity jobs! During three days, between the 21st and 23rd of March, we will be receiving alumni and professionals now working in the cyber field.
This is an opportunity to better grasp the tasks and skills that are waiting for you after graduating. This is also a networking opportunity.
Tuesday 21st: Workshop 1/ Careers in cyber strategy and crisis management – ANSSI

– Mathieu Couturier, Deputy Head of the digital security management office at ANSSI
– Alix Durand, Project Manager for Strategic Analysis at the Sous-Direction Stratégie at ANSSI
Wednesday 22nd: Workshop 2/ Careers in cyber threat intelligence – Thalès and BAE Systems

– Berenike Vollmer, Cyber Threat Intelligence analyst at BAE Systems
– Nicolas Quintin, Cyber Threat Intelligence Lead at Thalès
Thursday 23rd: Careers in cyber consulting – Wavestone and Capgemini

– Lucie Shen, Senior Consultant Business Technology at Capgemini Invent
– Camille Maindon, Consultant Cybersécurité at Capgemini Invent
– Agathe Minerbe, Consultant Cybersécurité et confiance numérique at Wavestone
Registration: https://forms.gle/BzGFdJXjZW43k8Fg7
These events is not open to people from outside Sciences Po.
Recommandation and resources for Cyber Threat Intelligence HERE