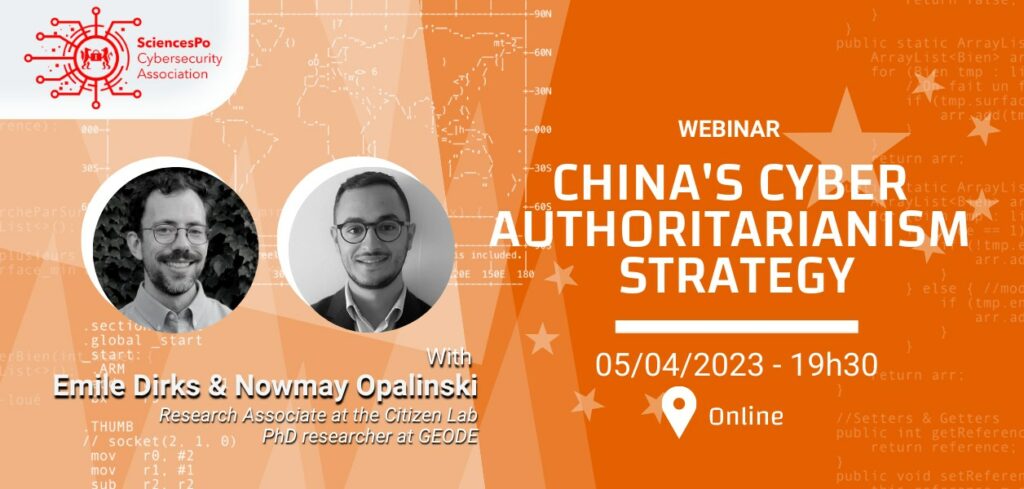 Automated surveillance systems, domestic online propaganda and disinformation, collection of personal data, extensive censorship… What does digital authoritarianism mean?

When can we trace back its deployment in China?

What is the Chinese Great Firewall concretely speaking?
To answer all of these questions, the Sciences Po Cybersecurity Association is hosting a webinar on the 5th of April to discuss China's Cyber Authoritarianism. We are extremely happy to welcome Emile Dirks (from the Citizen Lab) and Nowmay Opalinski (from GEODE), two researchers who are both focusing on China and digital affairs.
 The event will take place on Thursday 5th of April, 7:30 pm (Paris time), on Zoom.
This event is not open to people from outside Sciences Po.
—
Emile Dirks is a Research Associate at the Citizen Lab at the Munk School of Global Affairs & Public Policy at the University of Toronto. His research on police-led mass biometric surveillance in China has been covered by The New York Times, The Economist, and The Intercept, among other publications. He completed his PhD in Political Science from the University of Toronto in 2022.
Nowmay Opalinski is a Ph.D. Candidate in geography at the French Institute of Geopolitics (IFG) (University of Paris 8 ) under the supervision of Frédérick Douzet and Isabelle Saint-Mézard. He is also a member of the research project GEODE (Geopolitics of the Datasphere). His research deals with China's "Digital Silk Roads", and the impact of Chinese investments in ICT infrastructure on Asia's regional Internet connectivity with a specific focus on Pakistan. He is fluent in Chinese and studied at the Beijing Language and Culture University (北京语言大学). He is also affiliated with the Lahore University Management of Sciences (LUMS) where he is part of the EPIC (Exploring Pakistan's Internet Connectivity) research project.