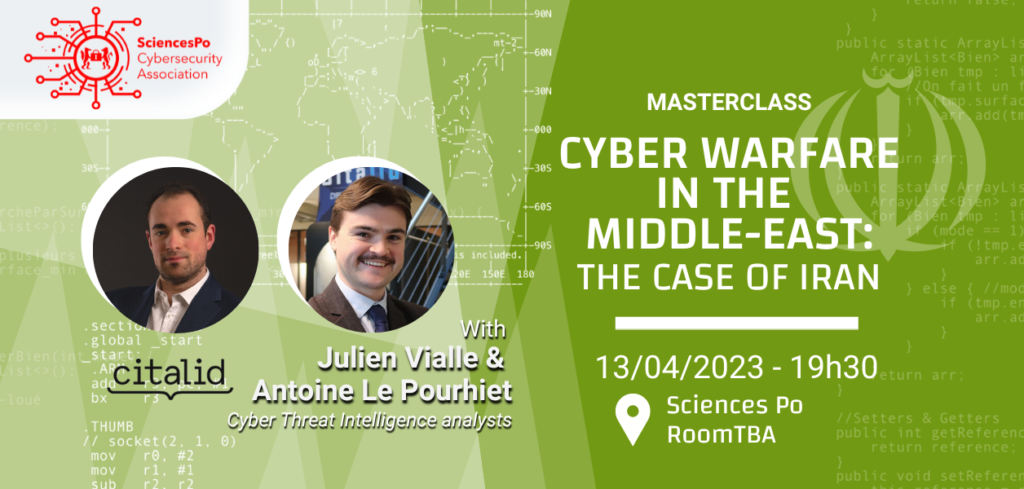 What is the Iranian cyber strategy ? Does the name Nemesis Kitten ring a bell to you? How did Iran build up its cyber capabilities ?
With Russia rewarding Iran's support in the context of the Ukraine war by sending cyber weapons to the Iranian government last week, one might fear the impact of deepening ties between these two major actors on the cyber geopolitical scene.
Over the past few years, Iranian cyber threat actors have been improving their capabilities, providing Iran with tools both designed for external cyber espionnage on a regional or international scale, and for domestic control in order to suppress internal dissidents.
Iran is both engaged in a long-lasting cyberwar against Israel, and in worldwide campaigns. As an example, between July and September 2022, Iranian APTs launched a major cyber offensive against Albania, a country known to host members of the Iranian political opposition.
In order to deepen these issues, we have the honour of receiving two analysts from Citalid, a French startup focusing on CTI, who will dive into Iran's cyber strategy.
Julien Vialle graduated from the Toulouse 1 Capitole University with a master's degree in International Relations and Security Policies, before joining the OpenFacto association, focusing on OSINT. He also did an MBA in Risks, International Security and Cybersecurity at the Ecole de Guerre Economique and he has been working as a Cyber Threat Intelligence analyst at Citalid since September 2021.
Antoine Le Pourhiet comes from a more legal background, with a master's degree in International and European Law from the Paris Saclay University and Grenoble Alpes University. He then focused on International Relations with a master's degree in International Relations and in International Security, Cybersecurity and Defense at the ILERI and Grenobles Alpes University. He joined Citalid as a CTI analyst in September 2022.
—
The event will take place on Thursday the 13th of April at 19:30, in Sciences Po (56 rue des St Pères, entry via 27 rue St Guillaume), room 401 (4th floor).
This event is open to people from outside Sciences Po.
—
* By filling out this form, you agree that the information entered will be used for the processing of registrations for the above event. Under Law No. 2018-493 of June 20, 2018 amending the Data Protection Act of January 6, 1978, you have the rights of access, rectification, opposition, deletion, limitation and portability, which you can exercise via the address: communication@scpo-cybersecurityassociation.com.