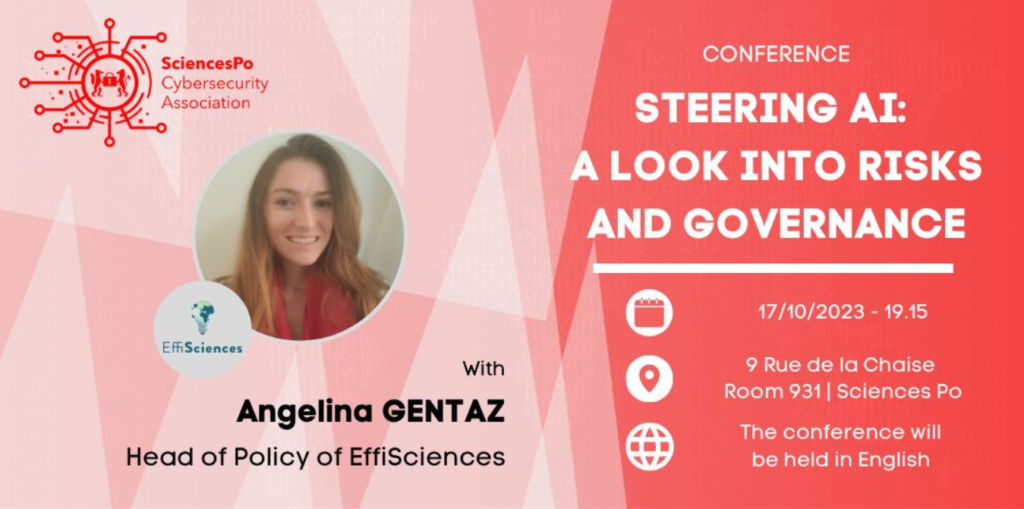 📆 WHEN: October 17th, from 19:15 to 21:15
📍 WHERE: Sciences Po – 9 Rue de la Chaise – Room 931

🗣 LANGUAGE: English
Are you ready to delve into the captivating world of Artificial Intelligence and its governance? Mark your calendars for an enlightening evening:
Join us as we embark on a journey to demystify the complex challenges posed by advanced Artificial Intelligence. In an era where AI is reshaping the world, we're here to unravel the mysteries behind its risks and governance.

🌐 What to Expect:
Insights on the Basics of AI and AI Risks
International AI Policies Overview
Strategies for Mitigating AI Risks and Maximizing Benefits


🎙️ Meet Our Expert Speaker: Angelina GENTAZ
Head of Research at Effi Sciences and External Consultant at the AI Policy Observatory of the OECD, Angélina is an expert on the intersection between AI safety and governance. With a strong focus on bridging the technical aspects of AI with effective governance, she's committed to ensuring AI's safe, ethical, and efficient integration into society.